---
April 2020
---
Welcome back to the FEANTSA Flash! 
This month has been all systems go, as we have been engaging with members, partners, and European leaders to protect people experiencing homelessness, who are disproportionality threatened by the coronavirus and the side effects of confinement. We'll be following the situation closely as governments move from crisis management to planning for lifting the lockdown. But first, here's what happened this month... 
Feel free to send us some tips for the next edition of the Flash by writing to us here. 
FEANTSA Events
Our Breakfast Bites Webinars continue with a focus on homelessness in the context of Covid-19 
Next up, on May 6 (10:30 CET), Stuart Allardyce from Stop It Now! will lead a webinar on 'Preventing Child Sexual Abuse during Covid-19', looking at the threat of child sexual abuse during Covid-19 and how homeless services working with youth and families can respond. Find out more and register.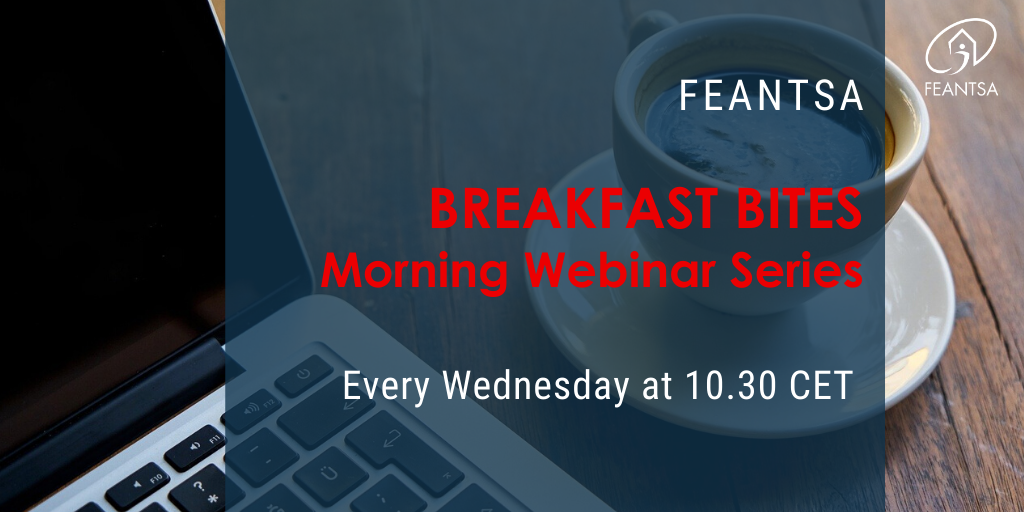 HSP webinar - Addressing Energy Poverty in the Climate Transition: Risks and Opportunities for a Renovation Wave 
The roundtable, hosted by Ciaran Cuff MEP, is an opportunity for policy makers to think about how the renovation wave can improve the housing conditions of the worst housed in Europe. Join in on 7th May (10:30 CET), register here. 
FEANTSA News
FEANTSA Breakfast Bites webinars available on replay 
If you missed the previous sessions, you can watch the recordings of the FEANTSA Breakfast Bites webinars here. You'll find the previous sessions covered topics such as problem-solving skills for frontline workers, FEANTSA's framework for defining youth homelessness, motivational interviewing and trauma-informed tips during Covid-19.  
Watch the 1st HSP Online Training online 
The Housing Solutions Platform (HSP) is holding a series of monthly Online Training Sessions which dive into its 50 Out-of-the-Box Housing Solutions to Homelessness and Housing Exclusion to explore some of its replicable solutions through an online series of trainings aimed at local authorities and NGOs.  You can re-watch the first session, which focused on Faith-based organisations, here.  
New beginnings 
Our Policy Officer Mauro Striano, who has been working for FEANTSA for almost 10 years, is leaving our organisation at the end of April to start a new chapter at Bruss'help. We would like to thank him for his dedicated and pioneering work in general, and on migration and participation in particular. We also would like to welcome his successor Simona Barbu, who will be taking over as of 13th May.  
FEANTSA Publications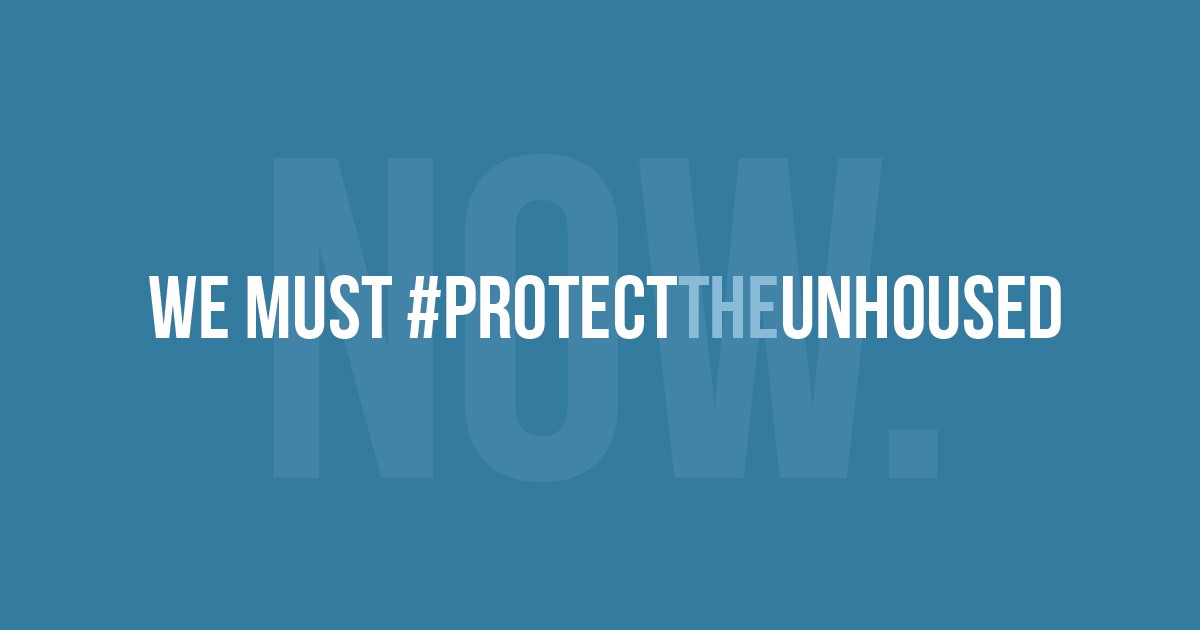 Global petition – protect the unhoused 
The strict measures aimed at reducing the spread of Covid-19 are making homeless people and other marginalised groups such as migrants even more vulnerable. FEANTSA joins over 80 organisations across the world in calling for these groups to be protected from the consequences of such policies, identified as priority groups for Covid-19 testing, and that their re-housing be considered a priority. Read more here. 
Joint Statement - COVID-19 crisis: People living in institutions must not be written off 
Some services, including homeless shelters, are forced to stay open during the Covid crisis but lack public support for protective materials, and extra staff to compensate for sick staff and more users.  This results in increased vulnerability for already vulnerable groups. FEANTSA, as part of the European Expert Group on the Transition from Institutional to Community-based Care (EEG), calls on EU leaders to ensure its response to COVID-19 takes into consideration persons living in institutions in Europe. Read the joint statement here. 
Member News
Italy -  Fio.PSD requests urgent measures to protect the population  
In an open letter to the President and Prime Minister of Italy, fio.PSD urges the attention of national institutions and competent bodies at local level to strengthen health protection measures for homeless people and to guarantee adequate health surveillance systems for social workers involved in the provision of extraordinary services and activities required for the Covid-19 emergency. Read the full letter. 
Poland – Monar Association provides transitional quarantine spaces for people in need 
The Monar Association has launched "transitional assistance programmes" across Poland, to provide support for homeless people, infected by coronavirus, in the form of shelter, full board, social worker assistance, addiction therapy specialists and psychologists. Find out more. 
Hungary – BMSZKI report a rise by 3000 in homeless people asking them for help during pandemic 
Our Hungarian member is working harder than ever to protect the unhoused. They explain how people can help. 
Brussels – Bruss'help develops a crisis platform to take care of homeless people  
The software allows for real-time and centralised tracking of available places of reception for people in situations of homelessness so that they can be directed towards hospitals and shelters as needed. Via le Vif. 

Spain - Arrels Fundacio activates a new street team and a telephone service to deal with the alarm state  
Recognising that despite the provision of more emergency places there will still be people living on the street, Arrels launches a street team to ensure that the basic needs (food, hygiene, health, etc.) of homeless people are met. They have also set up a telephone service for the orientation needs of those living on the street. Read more about their work. 
Spain – Provivienda provide a series of practical guides on rent and housing in the Covid-19 crisis 
To try to alleviate the impact of the social and health crisis on affected people, Provivienda have collected information that affects processes related to housing (payments, rents, mortgages, etc.) here. 
European News
EU Covid-19 Response and Homelessness in the last 2 months - All you need to know in under 2 minutes 
The European Union's response to the Covid-19 crisis includes a number of measures relevant for organisations working with homeless people. Steps have been taken to mobilise the EU budget. The Covid-19 Coronavirus Response Investment Initiative mobilises the structural funds to respond to Covid-19. It us up to the Member States to decide how to spend the funds but protective equipment, temporary housing and other relevant measures are eligible.  The FEAD programme has been amended in the context of the pandemic: important changes include the eligibility of protective equipment and vouchers, as well as greater flexibility to amend programmes and the option of 100% co-financing. The European Solidarity Fund can now be used to respond to Covid-19, including measures to protect and care for homeless people and temporary housing.  
European Commissioners Schmit (Employment and Social Affairs), Kyriakidis (Health) and Dalli (Equality) have written to Member States encouraging them to focus on the most vulnerable, including homeless people. As to the European Parliament, it has adopted a Resolution on EU coordinated action to combat the Covid-19 pandemic and its consequences calling for Member States and the EU to take targeted measures and provide sufficient funding to protect homeless people.  The European Union Agency for Fundamental Rights (FRA) published a report on the Covid-19 Pandemic in the EU and its implications on Fundamental Rights, which includes a brief chapter on the situation for homeless people. At the Council of Europe, the European Social Rights Committee has issued a statement on the interpretation of the right to the protection of health in times of a pandemic, which calls for adequate healthcare protection for vulnerable groups at high risk, including homeless people. Incidentally, the Human Rights Commissioner at the Council, Dunja Mijatovic, also published an opinion that calls on Member States to address growing health inequalities through a broad social rights approach and considers the eradication of homelessness a vital part of this effort. Finally, in a very welcome move, the director of the World Health Organisation (WHO) office in Brussels mentioned homeless people as a group of specific concern when it comes to high risk of contracting and transmitting Covid-19.  
Survey on Living and Working Conditions during the Pandemic 
In an effort to capture the most immediate changes in people's quality of life and work during this pandemic, Eurofound (the European Foundation for the Improvement of Living and Working Conditions) has launched a ten-minute online survey entitled Living, working and Covid-19.  Anyone aged over 18 living in the EU Member States or other countries can complete the survey here. 
Beyond Covid-19 (Because homelessness didn't start with the pandemic!) 
The Council of the European Union adopted Conclusions on the 2020 Annual Sustainable Growth Strategy & Joint Employment Report (a key moment in the Semester process). In these conclusions, the Council, For the first time ever, stressed that the increase of homelessness is a concern for the EU and Member States. The European Disability Forum produced its fourth European Human Rights Report, which looks at poverty and social exclusion of persons with disabilities in the EU. The 2020 issue covers extreme poverty and homelessness in a dedicated chapter. 
Partner news
Creativity with people who are homeless during Covid-19 
C-19 is resulting in more people who are homeless becoming isolated. Creative projects are being used to help people's well-being, boredom and loneliness. With One Voice, the international arts and homelessness movement is collecting and sharing projects in this field including a Mobile Library that has been set up by Cardboard Citizens, The Reader and St Mungo's in London. WOV is also compiling a database of creative projects for people who are homeless during C-19. Please add your project here.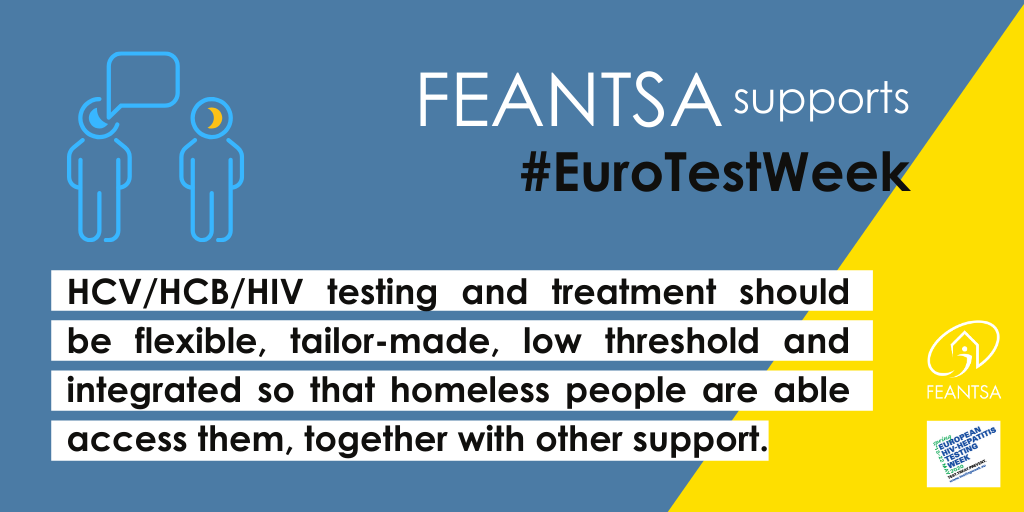 "Testing Saves Lives" - EU Testing Week 
European Testing Week will take place from 15-22 May. #EuroTestWeek encourages organisations throughout Europe to unite for one week to promote integrated hepatitis and/or HIV testing and create awareness on the benefits of getting tested. 
The message: Community-based voluntary and routinely offered testing is key, especially because the virus does not cause symptoms in its initial phase and people may not know they are infected. Making testing more consistently available for people experiencing homelessness will make earlier diagnoses possible and ultimately save lives. Join the campaign and find out more at www.testingweek.eu. 
French associations sue city of Toulouse for neglect of human rights for homeless people 
Médicins du Monde, Cimade, Secours Catholique, Utopia 56 and the Abbé Pierre Foundation are suing the State and Toulouse Métropole for: "attacking human dignity and the fundamental freedoms of precarious people due to lack of access to water and hygiene" during the Covid-19 crisis. France 3 reports. 
Headlines
Belgium:
European Parliament hosts homeless people 
In recent efforts to put empty European Parliament buildings to good use during the pandemic, the institution is opening its doors to 100 women experiencing homelessness. Women in need will find shelter in the Kohl building, where they will be attended by Samusocial. Other EP services are being used to help the most vulnerable during the lockdown, such as the canteen, which will be providing 1000 meals per day to homeless people and social workers. BX1 reports. 
 
France:
Almost 11.000 hotel rooms made available for homeless people 
In addition to the "vouchers" provided to homeless people to enable them to purchase basic necessities, as reported previously, the French State has mobilised an additional 65 million Euros to provide people experiencing homelessness with emergency accomodation in hotels, to allow them to self-isolate. Read more in Le Point.  
The city of Nice distributes masks to people experiencing homelessness 
The city of Nice will provide all inhabitants with masks and has started the operation amongst the most vulnerable. Nice Matin reports.   
Spain: 
Homelessness and the crisis to come – An opinion piece by Laura Guijarro Edo 
Our Spanish AC member Laura Guijarro Edo reflects on the current situation and how it puts the spotlight on social inequalities, but also exposes how containment measures are not enough, and the concern about what will happen after the pandemic. Read the piece in Ara.cat here.  
Netherlands: 
Council for Public Health and Society says Government approach to homelessness needs to undergo structural changes 
This piece by nrc.nl reports that the Council for Public Health and Society, an independent advisory body to the Government, advises for a structural change in their approach to homelessness, which would include a stock of affordable housing and a rapid re-housing scheme, a stop to evictions for people unable to pay rent, and support for people exiting prisons and psychiatric hospitals.  
UK: 
Homelessness charities say "high volume" of LGBT youth at risk during pandemic 
With the Covid-19 lockdown ongoing, young LGBT people living in hostile or abusive situations are among the most vulnerable, the New Statesman reports.  
World: 
BBC World reports about homelessness and confinement measures, with our Italian member fio.PSD explaining the situation in Italy. You can watch the piece on replay here.  
 

Further Reading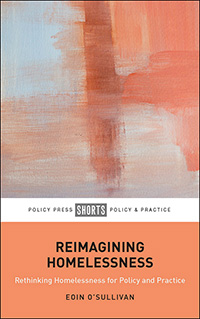 Reimagining Homelessness: for Policy and Practice by Eoin Sullivan 
In light of current failing policies for managing rising homelessness, Eoin O'Sullivan, Lead Editor at the European Observatory on Homelessness and Professor in Social Policy at Trinity College Dublin, uses the Irish experience to demonstrate that a reimagining is required; of homelessness as a pattern of residential instability and economic precariousness regularly experienced by marginal households. Only then will it be possible to arrest this instability. Published by University of Chicago Press. 

Belgium - Le Relais Social de Charleroi plays a major role in integrating housing during the health crisis 
In Charleroi, day and night accommodation structures have modified their offer to adapt to the Covid-19 health crisis. Le Relais Social, which coordinates these services to help homeless people, has developed housing solutions, positioning itself in a unique way as an operator in the rehousing of beneficiaries. The objective is to unclog reception structures and anticipate the end of the crisis. However, it remains essential to provide the necessary financial resources for housing support. Telesambre reports.