ONLINE EVENT
Access to adequate accommodation and housing under the Temporary Protection Directive
09th of October, 11:00-12:30 am CET, online on Zoom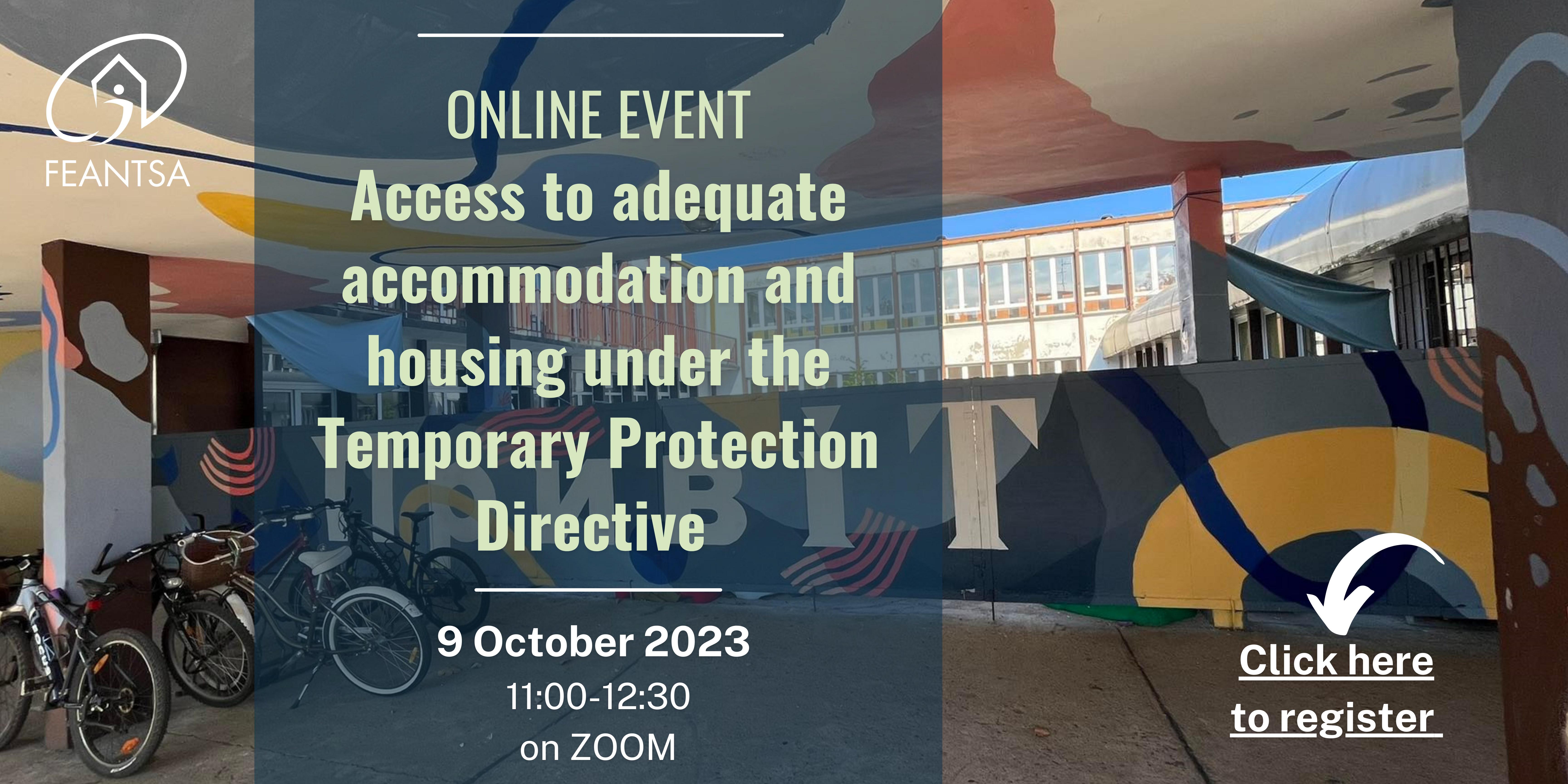 Over eight million people have fled Ukraine to enter the EU, since the 24th of February 2022 when Russian troupes invaded the country. Almost five million registered for temporary protection in an EU Member State. Despite the activation of the TPD and additional support measures from the EU level, this unprecedented number of arrivals into MS has made it very difficult from the outset to identify solutions for adequate accommodation. As recognised by the EC in its March 2023 Communication on 'Temporary protection for those fleeing Russia's war of aggression against Ukraine: one year on, "Hosting millions of persons displaced in a short period of time has proven one of the major challenges in the implementation of the Temporary Protection Directive."
Europe was already confronted with a crisis of affordable and adequate housing. In the past years, Member States have repeatedly failed to fulfil the accommodation needs of applicants for international protection in the EU, way too often relegating individuals to inadequate living conditions. In some countries, such as Greece, Belgium, the Netherlands, and Ireland, the lack of political will combined with overwhelmed reception systems meant that asylum seekers experienced sleeping rough recurrently. While the war in Ukraine added a new layer of pressure on the reception systems, as well as in general on housing systems in receiving countries, this type of destitution has been for the most part avoided for those fleeing the war to Europe from Ukraine. The unprecedented wave of solidarity shown by European citizens, combined with the straightforward and swift reception facilitated by the TPD made this possible. More than one year after the war started, however, the situation with accommodation for beneficiaries of temporary protection remains difficult across MS and long-term strategies for securing housing continue to be missing.
This webinar aims to clarify how the right to accommodation should be understood under the TPD while taking stock of the challenges and problems with accommodation for beneficiaries of TP, including groups in vulnerable situations. Discussions will also shed light on situations where reception standards failed to be met and identified risks of homelessness among people fleeing the war in Ukraine. Building on this knowledge, we aim to raise awareness of the need for long-term housing solutions and identify avenues of support in this area.
The event will bring together stakeholders working to improve the accommodation situation for people fleeing the war in Ukraine as well as policy makers and representatives of the EU institutions working in the area of asylum and migration.
Speakers
Panel 1. The right to acommodation – implementation, challenges and needs
Introduction and moderation - Simona Barbu, FEANTSA Policy Officer
Iryna Hnasevych, ECRE Senior Legal Officer, Understanding the right to accommodation under the TPD
Jakub Wilczek, Polish National Federation for Solving the Problem of Homelessness President, Challenges in accessing accommodation and the risk to homelessness in Poland
Jules Van Dam, Director at De Tussenvoorziening and representative of the national Valente Association, The situation of third country nationals in the Netherlands
Panel 2 – Measures adopted and future plans for housing solutions
Moderation by Freek Spinnewijn, FEANTSA Director
Katerina Dimitrakopoulou, Head of Sector – Integration, Directorate-General for Migration and Home Affairs
Thomas Jezequel, Head of the reception and vulnerability sector, the European Union Asylum Agency