Webinar series on Peer Support in Homelessness & Health Settings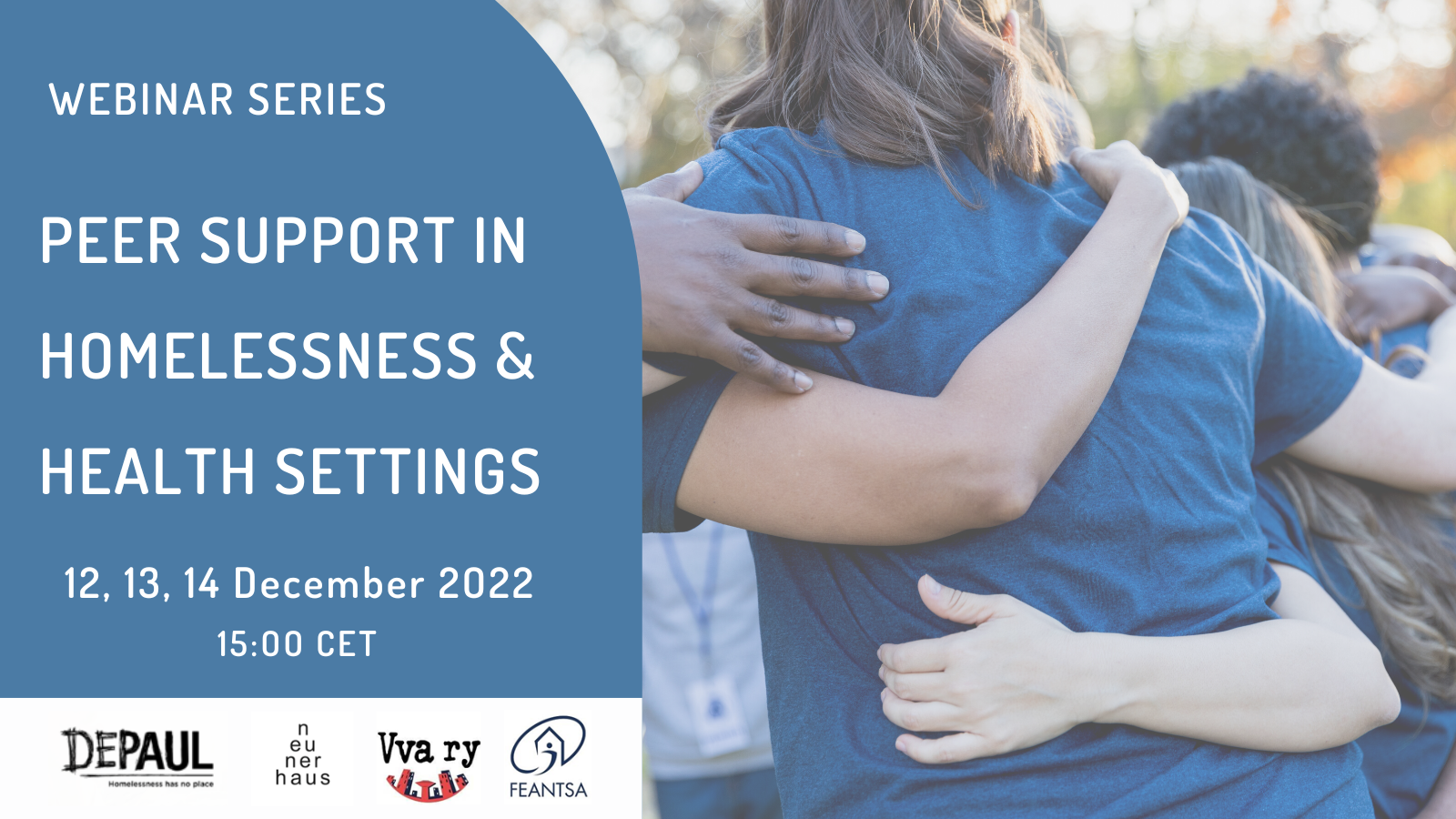 Organised by FEANTSA in collaboration with No Fixed Abode (Finland), Depaul (Ireland) and Neunerhaus (Vienna)
12, 13 and 14 of December (15:00 – 17:00 CET)
On 12, 13 and 14 of December 2022, FEANTSA, in collaboration with No Fixed Abode (Finland), Depaul (Ireland) and Neunerhaus (Vienna), hosted a webinar series on Peer Support in Homelessness & Health Settings.
The webinar series was addressed to service providers working to improve access to healthcare for people experiencing homelessness by involving peer workers in the process. Professionals and medical doctors also joined.
Each day focused on specific topics: on day one, 12 December, the presentations focused on "Learning the basic knowledge about peer support in homelessness & access to health settings for people facing homelessness."
See presentation of Sanna Tiivola, Executive manager No Fixed Abode (The initiation of the peer work within No Fixed Abode and how it functions currently)
See presentation of Dermot Murphy, Director of Services and Development Depaul Ireland (The initiation of the peer work within Depaul, how it was mainstreamed and how it received funding to develop)
See presentation of the Depaul Ireland peers about the importance of peer work, its challenges and benefits and how it works in practice.
See presentation of Daniel Hoey Focus Ireland about how to engage and develop peer work in connection to research
Day two, 13 December, presented Insights into peer support in health settings, with a particular presentation focusing on peer support in the context of COVID19.
Neunerhaus Vienna, Christopher Labenbacher, neunerhaus health centre and Barbara Berner, neunerhaus Peer Campus (This presentation illustrated how peers from neunerhaus work to improve access to health for people experiencing homelessness within the health centre from Vienna).
Depaul Ireland, Niamh Thornton, Senior Manager of Peer advocacy program and Rachel McMahon, Deputy Manager Homeless Health Peer Advocacy Programme (This presentation informed about means to build advocacy projects with involvement of people with homelessness experience).
Find & Treat, Dr Al Story (Presentation on the PEERS support work with blanketing Covid 19 vaccinations in London carrying out more than 12,000 vaccinations.)
Day three, 14 December - the speakers went into specific health-related topics and discussed how to engage with peer support to overcome substance addictions. On the last day we also heard from three medical doctors who have collaborated in different health projects with peer workers as they explained their experiences.
See the presentation of Dr Daniel Roca (Barcelona) on the situation in Barcelona and how the homelessness service providers are working with the medical college to encourage more focus on health among people experiencing homelessness, including developing peer work in health settings.
See the presentation of Dr Henrik Thiesen (Copenhagen City Social Services) on the work in Denmark with conducting outreach together with peers from the Drug Users Academy to offer support for hepatitis, HIV and naloxone use).