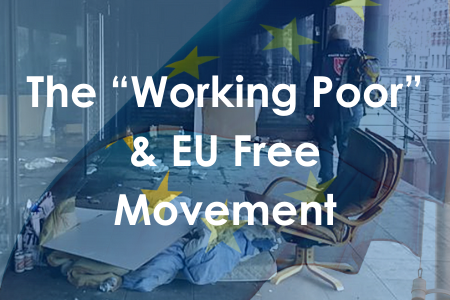 The "Working Poor" and EU Free Movement:
The Notion of "Worker" in the Context of Low-wage and Low-hour Employment
---
The interpretation of the notion of "worker" is of utmost importance to the proper enjoyment of EU free movement rights by mobile EU citizens. There is evidence of a trend towards a narrow interpretation of "genuine and effective" as regards the nature of the activity, to exclude from residence rights, and from access to welfare benefits, mobile EU citizens engaged in low-wage jobs or working only a few hours a week. A narrow interpretation targets mobile EU citizens with precarious working conditions who are also more vulnerable to homelessness. As a follow-up to the report on the notion of worker in the context of low-wage and low-hour employment for mobile EU citizens FEANTSA recently published, we invited stakeholders to have an exchange on this topic. The seminar provided an the opportunity to present and discuss the main results of the report.
Date: 19th November 2019
9.30 – 9.35     Welcome by Estrella Durá Ferrandis
9.35 – 9.50     Keynote speech by Manuel Velázquez, General Coordinator Labour Inspection for transnational posting of workers, Labour and Social Security Inspection of Spain
9.50 – 11.20     A narrow interpretation of the notion of 'worker' that excludes mobile EU citizens in precarious jobs from accessing social rights
Homeless mobile EU citizens working poor: the importance of being considered 'workers' – Mauro Striano, Policy Officer, FEANTSA
The role of Belgian municipalities in excluding the working poor from residence rights, Anthony Valcke, lawyer, EU Rights Clinic 
Low-wage and low-hour employment in Germany: you need a lawyer to be considered as a 'worker', Stamatia Devetzi, University of Fulda
The minimum earning threshold and labour exploitation of mobile EU citizens in the UK, Lucila Granada (TBD), Focus on Labour Exploitation
Q&A Session
11.20 – 11.30     Coffee Break
11.30 – 13.00     How to address the working poor issue in the EU free movement context? Panel session with contributions by:
Estrella Durá Ferrandis MEP, Socialists and Democrats, Spain   
Gabriele Bischoff MEP, Socialists and Democrats, Germany
Francisco Perez-Flores , Legal Officer, DG Employment, Social Affairs and Inclusion, European Commission
Esther Lynch (TBC), Deputy General Secretary, European Trade Union Confederation   
Freek Spinnewijn, Director, FEANTSA
Q&A Session
13.00 – 13.30 Sandwich Lunch